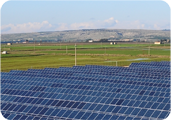 The business model
For the construction of large photovoltaic plants you can not leave anything to chance.
Yuraku has established a clear business model that has enabled her to complete 11 installations in a year. This explains briefly the main steps for the realization of a large PV array:
Yuraku has established extensive relationships in the past 6 years in Italian and Spanish PV market, keeping in touch with many small and large project developers. This allowed us to gain market access for large-scale photovoltaic projects.

The legal due diligence of each project is provided by one of the best law firms in the energy sector. It is an international organization with more than 1.100 lawyers in 21 offices around the world including U.S., Europe and Asia. Their customers are industrial, financial and commercial, investment banks, high-growth company, governmental entities, start-ups and individuals.

The law firm checks all the activities that have been made by the developer and it ensures the integrity of the project. At the end of this process it provides us with a detailed due diligence that describes all the legal aspects and gives his legal assessment.

To ensure our projects in all technical aspects we have chosen to rely on a number of experienced professionals in the field of photovoltaic systems with a long history for having designed and built thousands of photovoltaic systems.

This team of professionals is responsible for checking all the projects under all technical aspect and ensure the completion of the construction phase until final testing.

After completing both the legal due diligence and technical due diligence the next stepis taken: the signing of definitive agreements between the parties.

In these agreements, drafted by our law firm, we provide and regulate all aspects of relations with the parties involved in the construction of the plant.

To speed up the process of construction the panels are always available in one of our warehouses in Europe. Inverters for major power plants are purchased from a reliable company, one of the most renowned producers in Italy. All the remaining materials (structure, cables, etc.) will be delivered by our partner EPC.

Thanks to a well-organized work plan we can size the construction time for a plant of 1 MW to 55 days. All this is possible by the Yuraku team that is able to coordinate the implementation of the power plant; the constant presence of our technicians on site and the support of all our consultants also make the difference.

After the completion of the power plant will run a test to ensure the quality of construction and operation of the plant. Now our plant is ready for final inspection of Enel, which will connect it to the network. Even this final phase will be supervised by our team of specialists.